Are you looking to buy a two slice toaster in the UK?
We've calculated the combined product ratings from Amazon UK, Argos, John Lewis and Tesco. We then list the 5 best rated, for you to consider.
We discovered around 80 models for sale at these trusted shops.
In this ratings report, you will only see established, reliable and tested two slice toasters. According to owners.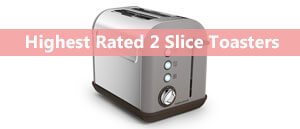 This ratings-driven view of the market often highlights unexpected models for sale. It can also steer you away from a 'bestseller' - if ratings suggest poor performance.
Product ratings in this report start at 4.4 stars
The prices range from £24 to £35
How does it work?
We begin by building a list of two slice toasters with more than 50 owner ratings. This system jumps straight to the established products. We can see how they've actually performed, according to owners.
Next we remove two slice toasters with less than a 4 star rating. We now have a list of the higher rated models, with a credible amount of verified opinion.
After ordering the list of the best two slice toasters, we publish this Top 5 for you.
The Best Two Slice Toasters 2017
Total Ratings = The combined number of ratings found at Amazon, Argos, John Lewis and Tesco. To see the individual ratings numbers and average scores for each shop click here. Ratings taken on 5th May 2017. We only consider products with rating scores above 4 stars, and more than 50 owner reviews. We use the same criteria for all our reports.
You can swipe this table >>
You can re-sort this Top 5 - it's currently sorting from the highest rated.
Below are links out to UK stores selling these top rated two slice toasters. There you can learn more about product features, and find today's best prices.
Feature & Review Highlights
Morphy Richards Accents Toaster
2 Slice Version

Colours: Sand, Pebble, Azure, Brushed Steel
Frozen and Reheat Buttons
Crumb Tray
"At last a toaster that browns the full slice of bread as wanted, I'm so happy with the results."
Click for all features, offers, deals and todays best price:
Tefal Toast and Beans Toaster
2 Slice Toaster
8 Heat Options
Cooks Eggs and Beans
"

Love it! Never had so many poached eggs in my life! Excellent addition to the kitchen. So easy to use.

"
Click for all features, offers, deals and todays best price:
Tesco 2 Slice Toaster
Variable Heat Settings
Automatic Centering
High Lift Control
"Cannot fault it in anyway. It has all the features you need."
Click for all features, offers, deals and todays best price:
VonShef 2 Slice Toaster
Black Diamond Styling
Extra Wide Slot Toaster
Self-Adjusting Bread Guides
"

Makes toasts quick even on low settings. Very easy to use.

"
Click for all features, offers, deals and todays best price:
Russell Hobbs Jewels 2 Slice Toaster
High Gloss Toaster
Colours: Sapphire Blue and Ruby Red

'Lift and Look' Function

Defrost Button

"

Its a lovely colour and feels well made. Really like the lift to view feature so you can check the toast without stopping the toaster.

"
Click for all features, offers, deals and todays best price:

Market Insight
This is our first report on 2 slice toasters, having previously made combined report on both 2 and 4 slice toasters.
This is a very busy market, as you might imagine. We find some markets are easier to navigate than others. This was a difficult one, due to the sheer number of models and the similar designs. Subtle differences in model numbers also cause difficulties when trying to compare toasters.
After many calculations, this list represents the best 2 slice toasters for sale at the four shops we use for all our reports.
There are many manufacturers in this competitive market, the main ones are De'Longhi, Russell Hobbs, Tefal, Breville, Morphy Richards, Swan, Igenix, Brabantia and Dualit.
As usual, we combined the ratings of colour variants together. You can see the breakdown of the top 5 ratings by clicking here.