Are you looking to buy a set of digital bathroom scales in the UK?
We've combined product ratings from Amazon UK, Argos, John Lewis and Tesco and created a Top 5 for you to consider.
We discovered around 140 different models for sale at these trusted shops.
This report will show you established and reliable digital bathroom scales, performing as expected. All based on owner rating scores.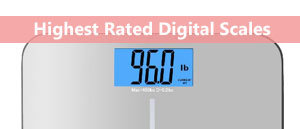 This ratings-driven view of the market often highlights unexpected models for sale. It can also steer you away from a 'bestseller' - if ratings suggest poor performance.
Ratings in the Top 5 begin at 4.7 stars
Prices range from £15 to £40
How does it work?
We begin by building a list of digital bathroom scales with more than 50 ratings. This jumps straight to established products. We can see how they've actually performed over time, according to owners.
We remove any digital bathroom scales with less than a 4 star rating. We now have a list of the higher rated models, with a credible amount of opinion.
After sorting the product list by ratings, we publish this Top 5.
The Best Digital Bathroom Scales 2017
Total Ratings = The combined number of ratings found at Amazon UK, Argos, John Lewis and Tesco on October 19th 2017. View rating scores from each shop here. Our report criteria only considers products with more than 50 owner reviews with rating scores above 4 stars.
You can swipe this table >>
You can re-sort this Top 5 - it's currently sorting from the highest rated.
Below are links out to UK stores selling these top rated digital bathroom scales. There you can learn more about product features, and find today's best prices.
Feature & Review Highlights
ETTG Smart Bathroom Scales
Measures Body Weight
Also Measures Body Fat, Water and Muscle
Highly Accurate Sensor
Bluetooth To Phone App
Units: Pounds, Kilos and Stones
"Great product! Very impressive! Very accurate! Very user friendly!"
Click for all features, offers, deals and todays best price:
Helect Electric Bathroom Scales
Body Weight Scales
Units: Pounds, Kilos and Stones
Step-On Technology
Backlit LED
"Nice design, accurate and great LED screen."
Click for all features, offers, deals and todays best price:
Etekcity Digital Bathroom Scales
Body Weight Bathroom Scales
Highly Accurate Sensor to 100g/.2lb
Units: Pounds, Kilos and Stones
Step-On Technology
White Backlit LED
"Accurate and such good quality! Highly recommend, and it looks nice too."
Click for all features, offers, deals and todays best price:
The Canwelum Smart Step-on Scales
High Precision Sensor
Auto Calibration
Smart Step-On Technology
Large Display
Blue Backlight
Units: Pounds, Kilos and Stones
"

Weighs exactly every time. Very accurate

."
Click for all features, offers, deals and todays best price:
Weight Watchers Slim Body Fat Scales
Measures Body Weight
Measures BMI
Also Measures Body Fat, Water and Muscle
4 Person Memory
Units: Pounds, Kilos and Stones
"Lightweight contemporary look scales that are accurate . Measuring weight, body fat, body mass, bone density and water ratio – I'm very happy . "
Click for all features, offers, deals and todays best price: