Are you looking to buy a hand blender in the UK?
We've calculated the combined product ratings from Amazon UK, Argos, John Lewis and Tesco. We then list the 5 best rated, for you to consider.
We discovered around 65 models for sale at these trusted shops.
In this ratings report, you will only see established, reliable and tested hand blenders. According to owners.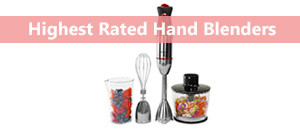 This ratings-driven view of the market often highlights unexpected models for sale. It can also steer you away from a 'bestseller' - if ratings suggest poor performance.
Product ratings in this report start at 4.6 stars
The prices range from £18 to £65
How does it work?
We begin by building a list of hand blenders with more than 50 owner ratings. This system jumps straight to the established products. We can see how they've actually performed, according to owners.
Next we remove hand blenders with less than a 4 star rating. We now have a list of the higher rated models, with a credible amount of verified opinion.
After ordering the list of the best hand blenders, we publish this Top 5 for you.
The Best Hand Blenders 2017
Total Ratings = The combined number of ratings found at Amazon, Argos, John Lewis and Tesco. To see the individual ratings numbers and average scores for each shop click here. Ratings taken on October 17th 2017. We only consider products with rating scores above 4 stars, and more than 50 owner reviews. We use the same criteria for all our reports.
You can swipe this table >>
You can re-sort this Top 5 - it's currently sorting from the highest rated.
Below are links out to UK stores selling these top rated hand blenders. There you can learn more about product features, and find today's best prices.
Feature & Review Highlights
The Kenwood HDP406 Hand Blender
800W Hand Blender
Beaker, Chopper and Soup Attachment
Also Whisk and Masher Attachment
"

Excellent product a must for all enthusiast cooks. Would buy another.

"
Click for all features, offers, deals and todays best price:
The Koölle G0094 Stick Blender
800 Watt Stick Blender
Variable Speed
3-In-1 Mixer Tools
"You get lots for your money. Well made and sturdy."
Click for all features, offers, deals and todays best price:
The Braun MQ100 Hand Blender
450W Hand Blender
Patented Tech for Fine Blending
Compact
"

Does a great job and with having a small kitchen takes no room up, easy to clean – would recommend.

"
Click for all features, offers, deals and todays best price:
The Breville IHB086 Hand Blender
500W Hand Blender
2 Speed Settings
Blending Beaker
Mini Chopper Accessory
Dishwasher Safe Parts
"

Does what it says, good for smoothies. Easy to clean.

"
Click for all features, offers, deals and todays best price:
The Tefal Optitouch Immersion Blender
600W Immersion Blender
16 Speed Settings
Three Attachments
"Very useful to have the additional fittings on this very useful blender – certainly the best I have ever had. Good value."
Click for all features, offers, deals and todays best price:
When making this report, we saw these as the more influential factors affecting owner opinion.
The hand blenders in our report will feature some, if not all, of these positive factors.
Look For:
Lightweight
Easy Click Tools
Easy To Clean

Market Insight
2017
This is our second update of 2017; our third year of researching hand blenders in the UK.
We've had another thorough look at product ratings in this market, and two of the most recent Top 5 hand blenders are replaced; it appears that an Andrew James hand blender was discontinued and replaced with a more powerful model. The Cookworks model lost out on overall rating scores.
For this ratings roundup, we once again stuck to hand blenders, stick blenders and immersion blenders; anything handheld, rather than counter-based.
The Top 5 contains some versatile products, with many attachments, tools and choppers. They might even replace other cookware in your kitchen.
Powerful, reliable motors, and easy-to-clean design appear to be the biggest requirements among owners; quiet, lightweight and easy click tools are also features that prompted positive comments.
It remains an easy sector for the consumer to navigate. We judge this on the product naming conventions and the amount of products to choose from. It is a market that continues to innovate, with more powerful machines being introduced and interesting tools being added.
2017 – Spring
In this update, we see a shift in the order of the Top 5 blenders, but no new product change since 2016.
We found around 30 hand blenders on sale at Argos, 15 at John Lewis and 44 at Tesco. There was more choice at Amazon but their listings make is hard to be exact about how many hand blenders are stocked. We estimate around 60.
The main manufacturers of hand blenders for sale in the UK are Kenwood, Braun, Tefal and Breville.