Are you looking to buy a kettle in the UK?
We've calculated the combined product ratings from Amazon UK, Argos, John Lewis and Tesco. We then list the 5 best rated, for you to consider.
We discovered around 500 models for sale at these trusted shops.
In this ratings report, you will only see established, reliable and tested kettles. According to owners.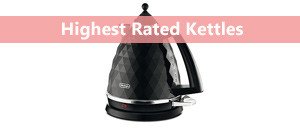 This ratings-driven view of the market often highlights unexpected models for sale. It can also steer you away from a 'bestseller' - if ratings suggest poor performance.
Product ratings in this report start at 4.6 stars
The prices range from £12 to £80
How does it work?
We begin by building a list of kettles with more than 50 owner ratings. This system jumps straight to the established products. We can see how they've actually performed, according to owners.
Next we remove kettles with less than a 4 star rating. We now have a list of the higher rated models, with a credible amount of verified opinion.
After ordering the list of the best kettles, we publish this Top 5 for you.
The Best Kettles 2017
Total Ratings = The combined number of ratings found at Amazon, Argos, John Lewis and Tesco. To see the individual ratings numbers and average scores for each shop click here. Ratings taken on March 8th 2017. We only consider products with rating scores above 4 stars, and more than 50 owner reviews. We use the same criteria for all our reports.
You can swipe this table >>
You can re-sort this Top 5 - it's currently sorting from the highest rated.
Below are links out to UK stores selling these top rated kettles. There you can learn more about product features, and find today's best prices.
Feature & Review Highlights
The Dualit Studio Kettle
1.5 Litre
2kW for Rapid Boil
Sure Pure Spout
Anti-Wobble Feet
Available in White and Black Colours
"

Great small kettle, easy to pour, lightweight & easy to keep clean.

"
Click for all features, offers, deals and todays best price:
The Breville Impressions Kettle
1.7 Litre

3kW for Rapid Boil
High Gloss Finish
Available in Purple, Black, Red, Cream and Black
"

Excellent product. Looks great, good quality and boils quickly

."
Click for all features, offers, deals and todays best price:
The Morphy Richards Prism Kettle
1.5 Litre
3kW
Brushed Chrome Handle
Distinctive Styling
"

Brilliant kettle, boils very quick, really looks good in my kitchen with the matching toaster.

"
Click for all features, offers, deals and todays best price:
The Tesco Rapid Boil Kettle
1.5 Litre

3kW for Rapid Boil
360 Degree Rotating Base
Removable Limescale Filter
"Great little kettle, boils quickly and would definitely buy another one."
Click for all features, offers, deals and todays best price:
The Cookworks Kettle
1.7 Litre

Exclusive to Argos
3kW for Rapid Boil
Available in Black, Cream and White
"A modern looking reliable kettle. It boils really fast and it is great to have the blue luminous light showing the water level."
Click for all features, offers, deals and todays best price:

Market Insight
2017
This is the fifth update of our best kettles report, and we see quite a shake up compared to the 2016 Top 5.
As you might expect, this is a competitive product sector. We found 170 kettles at Argos, 65 at John Lewis, 380 at Tesco and over 500 at Amazon. Some of these will be different colour variants, but even so – a busy market.
From researching this sector, we calculated the best kettles according to the ratings left by owners.
It was relatively easy to navigate this amount of kettles, with models being quite distinctive in style and with descriptive model names.
While innovation hasn't been obvious in recent years, we have seen a big push towards style and colour. In 2017 we see more new colour kettles on sale, some of these make it to our Top 5.
As always, we saw products that were very highly rated at one store, only to have a more conservative rating at others – The Dualit 72400, The Russell Hobbs Legacy and the Morphy Richards Accents all ended up with mixed reviews.
2016
In this January 2016 update of our best kettles report, we see the return of two classic Bosch kettles which previously featured in an earlier report; The Bosch Village kettles, TWK3 and TWK7.
The Bosch kettles pushed the Andrew James Kettle and the Igenix Kettle out of the top 5 due to a larger number of reviews. The Andrew James and Igenix are still excellent, very popular kettles.
As we mentioned in last years report, this is a very busy and competitive product sector.
Argos sell over 100 different kettles
John Lewis  60+
Tesco 140+
Amazon 200+
In this 2016 update, we also saw a few new models that we expect to do well this year, due to their early customer reviews – The Morphy Richards Prism kettle being one of these.
---
2015
Originally published on the 13th March 2015, this page saw its first update on the 30th of June. The last 2015 ratings round up was made on the 7th of October 2015.
In the October 2015 update of our best kettles page, we saw the Bosch Village Kettle, the Bosch Styline Kettle and the Waring Traditional Kettle replaced with the Igenix Kettle, the Russell Hobbs Legacy Kettle and the very popular Cookworks Kettle.
These were the 2015's latest highest scoring kettles according to owners, across the Amazon UK, Argos, John Lewis and Tesco websites after we applied our inclusion criteria.
All the links in this notes section will take you to Amazon UK.