Are you looking to buy a garlic press in the UK?
We've calculated the combined product ratings from Amazon UK, Argos, John Lewis and Tesco. We then list the 5 best rated, for you to consider.
We discovered around 80 models for sale at these trusted shops.
In this ratings report, you will only see established, reliable and tested garlic presses. According to owners.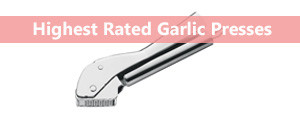 This ratings-driven view of the market often highlights unexpected models for sale. It can also steer you away from a 'bestseller' - if ratings suggest poor performance.
Product ratings in this report start at 4.7 stars
The prices range from £10 to £30
How does it work?
We begin by building a list of garlic presses with more than 50 owner ratings. This system jumps straight to the established products. We can see how they've actually performed, according to owners.
Next we remove garlic presses with less than a 4 star rating. We now have a list of the higher rated models, with a credible amount of verified opinion.
After ordering the list of the best garlic presses, we publish this Top 5 for you.
The Best Garlic Presses 2017
| Make & Model | Total Ratings | Average Rating | £ Guide | Quick view |
| --- | --- | --- | --- | --- |
| WMF Profi Plus | 142 | 4.9 | £££ | Amazon |
| OXO Good Grips | 382 | 4.8 | £ | John Lewis |
| Alpha Grillers | 100 | 4.8 | £ | Amazon |
| Lakeland Press | 68 | 4.8 | £ | Amazon |
| FreeToo Press | 237 | 4.7 | £ | Amazon |
Total Ratings = The combined number of ratings found at Amazon, Argos, John Lewis and Tesco. To see the individual ratings numbers and average scores for each shop click here. Ratings taken on October 26th 2017. We only consider products with rating scores above 4 stars, and more than 50 owner reviews. We use the same criteria for all our reports.
You can swipe this table >>
You can re-sort this Top 5 - it's currently sorting from the highest rated.
Below are links out to UK stores selling these top rated garlic presses. There you can learn more about product features, and find today's best prices.
Feature & Review Highlights
WMF Profi Plus Garlic Press
High Grade Stainless Steel
Stylish and Reliable Build
Dishwasher Safe
"

Crushes garlic extremely well with no waste, but it is also really easy to clean!

"
Click for all features, offers, deals and todays best price:
 OXO Good Grips Garlic Press
Soft, Non-Slip Handles
Built-In Cleaner
Large Capacity
"

Heavy solid design. Comfortable handles. Very easy to clean.

"
Click for all features, offers, deals and todays best price:
Alpha Grillers Garlic Press
Press and Peeler Set
Stainless Steel Garlic Press
Easy To Clean
Dishwasher Safe
Lifetime Guarantee
"The press looks sturdy and well built from quality materials. It is easy to use and clean. The peeler works great also."
Click for all features, offers, deals and todays best price:
Lakeland Garlic Press
No Need to Peel
Dishwasher Safe
Easy Clean Chamber
"So easy to use and clean, also saving time not having to peel the garlic. Can't recommend highly enough!"
Click for all features, offers, deals and todays best price:
FreeToo Garlic Press
Zinc Alloy

Easy Crush Lever
Dishwasher Safe
"I've had a few garlic presses over the years. This is the best I've had by far. It's very functional and cleans easily."
Click for all features, offers, deals and todays best price:

Market Insight
2017
Owner ratings in the garlic press market are heavily influenced by two main factors: easy to clean and durable design.
Owners are also most satisfied when garlic presses are simple to use and suitable for the dishwasher.
Bonus features of the better presses: minimal effort to crush, strong handles, and an ergonomic design.
Buyers in this market are often disappointed with garlic presses. They are either too fiddly, too difficult to clean, or simply break in use.
Some people will go back to using a knife, while others persevere until they find a quality one. In many reviews, we read of people trying 2 or 3 different models before finding the model that performs as expected.
It is a market that tries to innovate. Rocker designs, crush boxes are two of the newer variants for sale. Yet the metal, handle-type, garlic presses continue to perform best.
We've calculated the best-rated garlic presses across Amazon, Argos, John Lewis and Tesco since 2015. The WMF garlic press has been the highest rated for three years. Impressive.
2016
In this 2016 update to our best garlic presses report, we saw the most presses at Amazon. Tesco sold around 30 presses on the day of research; John Lewis sold five and Argos, just one.
Easy cleaning and strength are two main factors to consider when buying a new garlic press.
Because of the small size of this sector, it is easy to navigate.
There are lots of highly rated garlic presses for sale. This is one of the highest scoring reports we have compiled.