Are you looking to buy a rice cooker in the UK?
We've calculated the combined product ratings from Amazon UK, Argos, John Lewis and Tesco. We then list the 5 best rated, for you to consider.
We discovered around 220 models for sale at these trusted shops.
In this ratings report, you will only see established, reliable and tested rice cookers. According to owners.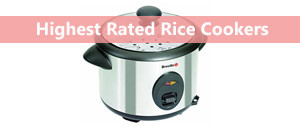 This ratings-driven view of the market often highlights unexpected models for sale. It can also steer you away from a 'bestseller' - if ratings suggest poor performance.
Product ratings in this report start at 4.4 stars
The prices range from £15 to £60
How does it work?
We begin by building a list of rice cookers with more than 50 owner ratings. This system jumps straight to the established products. We can see how they've actually performed, according to owners.
Next we remove rice cookers with less than a 4 star rating. We now have a list of the higher rated models, with a credible amount of verified opinion.
After ordering the list of the best rice cookers, we publish this Top 5 for you.
The Best Rice Cookers 2017
Total Ratings = The combined number of ratings found at Amazon, Argos, John Lewis and Tesco. To see the individual ratings numbers and average scores for each shop click here. Ratings taken on 5th May 2017. We only consider products with rating scores above 4 stars, and more than 50 owner reviews. We use the same criteria for all our reports.
You can swipe this table >>
You can re-sort this Top 5 - it's currently sorting from the highest rated.
Below are links out to UK stores selling these top rated rice cookers. There you can learn more about product features, and find today's best prices.
Feature & Review Highlights
The Tesco Rice Cooker
1.5 Litre Cooked Rice Capacity

Dishwasher Safe Removable Bowl
Keep Warm Function
Delay Start Feature
"Quick and simple to use. Amazing quality and price. Highly recommended."
Click for all features, offers, deals and todays best price:
The Breville ITP181 Rice Cooker
1.8 Litre Electric Rice Cooker
Removable, Non-Stick Bowl
Keep Warm Function
Steamer Function
"

Great for cooking rice and all vegetables fast.

"
Click for all features, offers, deals and todays best price:
The Cookworks Rice Cooker
1.5 Litre Electric Rice Cooker
Non-Stick Bowl
Keep Warm Function
"Brilliant, no more sticky rice."
Click for all features, offers, deals and todays best price:
The Weking Rice Cooker
1 Litre Electric Rice Cooker
Cooks and Keep Warm Function
Drip Proof Lid
Easy Clean Pot
"We have used rice cookers for many years. This has proved to be the best so far, giving consistent results. "
Click for all features, offers, deals and todays best price:
The Crock-Pot Saute Rice Cooker
2.2 Litre Electric Rice Cooker

3 Settings – Sauté, Cook and Keep warm

Non-Stick Easy Clean Pot
"Very nice rice-cooker. The design is very lovely and it's easy to use."
Click for all features, offers, deals and todays best price:

Market Insight
2017
We have been monitoring rice cooker ratings since 2015. This year we see a small change from last June's report. We lose the Hamilton rice cooker and see the arrival of the Tesco rice cooker. The Tesco rice cooker scores very well. It squeezes into our criteria and takes the number one position with a 4.7 rating.
The Cookworks rice cooker that featured in the 2015 and 2016 report had over 1000 ratings. This has been replaced. The new model scores very well and features in our Top 5.
You can see this years ratings scores and the 2015 and 2016 results by clicking here.
2016
In the 2016 update of our report, we found rice cooker reviews to be very hit and miss. There are not many big brand players in this field which surprised us, and there are quite limited options when looking for a dedicated rice cooker.
That being said, the best rice cookers that made into it the 2016 top 5 all get very solid reviews.
It should be noted that the Breville rice cooker at Argos is a subtly different model to the one sold at Amazon, and the reviews reflect this – the Argos rice cooker is much better (according to combined owner reviews).
This year we have only included dedicated rice cookers, as opposed to multi task machines – they are often much more in price and you may not use all the other features.
If you are looking a rice cooker that has these other functions, check out our best pressure cookers report.