Are you looking to buy a pressure cooker in the UK?
We've combined product ratings from Amazon UK, Argos, John Lewis and Tesco and created a Top 5 for you to consider.
We discovered around 140 different models for sale at these trusted shops.
This report will show you established and reliable pressure cookers, performing as expected. All based on owner rating scores.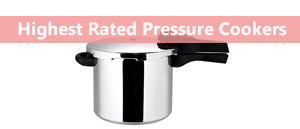 This ratings-driven view of the market often highlights unexpected models for sale. It can also steer you away from a 'bestseller' - if ratings suggest poor performance.
Ratings in the Top 5 begin at 4.6 stars
Prices range from £55 to £155
How does it work?
We begin by building a list of pressure cookers with more than 50 ratings. This jumps straight to established products. We can see how they've actually performed over time, according to owners.
We remove any pressure cookers with less than a 4 star rating. We now have a list of the higher rated models, with a credible amount of opinion.
After sorting the product list by ratings, we publish this Top 5.
The Best Pressure Cookers 2017
Total Ratings = The combined number of ratings found at Amazon UK, Argos, John Lewis and Tesco on October 12th 2017. View rating scores from each shop here. Our report criteria only considers products with more than 50 owner reviews with rating scores above 4 stars.
You can swipe this table >>
You can re-sort this Top 5 - it's currently sorting from the highest rated.
Below are links out to UK stores selling these top rated pressure cookers. There you can learn more about product features, and find today's best prices.
Feature & Review Highlights
The WMF Perfect Plus Pressure Cooker
6.5 Litre
Stainless Steel Pressure Cooker
3 Year Guarantee
Dishwasher Safe
Suitable for all Hobs: Including Induction
"

Fabulous pressure cooker! Easy to use, easy to clean. Stews can be done in less than 20 minutes.

"
Click for all features, offers, deals and todays best price:
The Tefal Clipso Pressure Cooker
6 Litre
Stainless Steel Pressure Cooker
Dishwasher Safe
Suitable for all Heat Sources: Including Induction
"Best pressure cooker ever and a big improvement on a classic design."
Click for all features, offers, deals and todays best price:
The Prestige Hi-Dome Pressure Cooker
6 Litre
Aluminium Pressure Cooker
Suitable for All Hobs – Except Induction
Hi-Dome for Extra Capacity Cooking
Lifetime Guarantee
"

If you are looking for a good quality pressure cooker then look no further than the Prestige Hi Dome. It will last for years.

"
Click for all features, offers, deals and todays best price:
The Tefal Secure Neo 5 Pressure Cooker
6 Litre
Stainless Steel Pressure Cooker
Dishwasher Safe
Suitable for all Heat Sources: Including Induction
Auto-Lock System
"I've been using it for few months now and it is a real time saver. Great for cooking anything!"
Click for all features, offers, deals and todays best price:
The Kuhn Rikon Duromatic Pressure Cooker
7 Litre / 5 Litre Options
Stainless Steel Pressure Cooker
10 Year Guarantee
Suitable for all Heat Sources: Including Induction
"…it is almost silent. The quality of the pan and lid is superb. "
Click for all features, offers, deals and todays best price: