Are you looking to buy a Tassimo coffee machine in the UK?
We've combined the owner rating scores from Amazon UK, Argos, John Lewis and Tesco to calculate a Top 5 of the highest scoring products for you to consider.
Shops Checked/Products Found

= 20

= 9

= 3
This report shows you five established, reliable Tassimo coffee machines, performing as owners expect. Our unbiased recommendations are based on combined owner rating scores, which we also share with you.
This ratings-driven view of the market often highlights unexpected models for sale. It can also steer you away from a 'bestseller' - if the owner ratings reveal poor performance.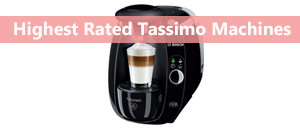 How does it work?
We begin by building a list of Tassimo coffee machines with more than 50 ratings at Amazon UK, Argos, John Lewis and Tesco. This jumps straight to the established products, and the rating scores reveal how they've actually performed, according to numerous owners.
We then remove the Tassimo coffee machines with less than 4 stars. We now have a list of the higher rated models, with a credible amount of opinion.
We use the same criteria for all our consumer reports: each product must have over 50 reviews and more than 4 stars. After sorting the list by ratings, we compile this Top 5.
The Best Tassimo Coffee Machines 2019
Total Ratings = Combined ratings from Amazon UK, Argos, John Lewis and Tesco on October 19th 2016. Report only considers products with more than 50 verified reviews. View all rating scores here.
You can swipe this table >>
You can re-sort this Top 5 - it's currently sorting from the highest rated.
Below are links out to UK stores selling these top rated Tassimo coffee machines. There you can learn more about product features, and find today's best prices.
Feature & Review Highlights
The Tassimo Joy T45
1.4 Litre Capacity
Espresso, Cappuccino, Latte, Ristretto, Latte Macchiato
Brita Filter Technology
Two Year Guarantee
"This is the second Tassimo I have had, compared to my first one which I bought many years ago the new joy is so much quieter and the Brita filter is a bonus."
Click for all features, offers, deals and todays best price:
The Tassimo Vivy 2
0.7 Litre Capacity

Barcode Technology

Compact Design

35 Varieties Including Tea and Hot Chocolate

"

It fits nicely on the worktop as it's a compact size and the variety of drinks pods available means it's in regular use.

"
Click for all features, offers, deals and todays best price:
 The Tassimo Fidelia T40
2 Litre Capacity
Fast Flow Heater Technology

12 Varieties Including Caffe Crema, Cappuccino, Latte Macchiato, Espresso

Bosch 2 Year Guarantee
"

It is so easy to use and makes lovely coffee. I also like the fact that it can make so many different drinks and is so versatile.

"
Click for all features, offers, deals and todays best price:
The Tassimo Vivy 1
1.5 Litre Capacity

12 Varieties Including Filter Coffee, Cappuccino, Latte Macchiato, Hot Chocolate and Tea

One Button Operation
"

Great product, we love it. Tasty coffees, cappuccinos and hot chocolates. One touch of a button.

"
Click for all features, offers, deals and todays best price:
The Tassimo Suny T32
0.8 Litre Capacity
LED Status Panel

12 Varieties Including Espresso, Coffee, Cappuccino, Latte, Macchiato, Cafe Latte

"

Excellent quality would buy again and recommend

"
Click for all features, offers, deals and todays best price: