Are you looking to buy a toasted sandwich maker in the UK?
We've calculated the combined product ratings from Amazon UK, Argos, John Lewis and Tesco. We then list the 5 best rated, for you to consider.
We discovered around 45 models for sale at these trusted shops.
In this ratings report, you will only see established, reliable and tested toasted sandwich makers. According to owners.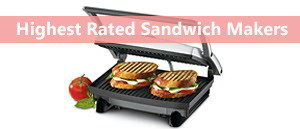 This ratings-driven view of the market often highlights unexpected models for sale. It can also steer you away from a 'bestseller' - if ratings suggest poor performance.
Product ratings in this report start at 4.5 stars
The prices range from £18 to £45
How does it work?
We begin by building a list of toasted sandwich makers with more than 50 owner ratings. This system jumps straight to the established products. We can see how they've actually performed, according to owners.
Next we remove toasted sandwich makers with less than a 4 star rating. We now have a list of the higher rated models, with a credible amount of verified opinion.
After ordering the list of the best toasted sandwich makers, we publish this Top 5 for you.
The Best Toasted Sandwich Makers 2017
Total Ratings = The combined number of ratings found at Amazon, Argos, John Lewis and Tesco. To see the individual ratings numbers and average scores for each shop click here. Ratings taken on October 18th 2017. We only consider products with rating scores above 4 stars, and more than 50 owner reviews. We use the same criteria for all our reports.
You can swipe this table >>
You can re-sort this Top 5 - it's currently sorting from the highest rated.
Below are links out to UK stores selling these top rated toasted sandwich makers. There you can learn more about product features, and find today's best prices.
Feature & Review Highlights
The Breville VST026 Toasted Sandwich Maker
Family Size – Room for 4 Sandwiches
Suitable for Focaccia or Ciabatta or Regular Breads
Easy Cleaning
"Superb non-stick surface, heats up quickly and super quick to wipe clean."
Click for all features, offers, deals and todays best price:
The Breville VST025 Toasted Sandwich Maker
3 Slice Toasted Sandwich Maker
Cafe Style
Stainless Steel
Easy to Clean
"Fits different sized breads and paninis, so easy to clean, just wipe over."
Click for all features, offers, deals and todays best price:
The VonShef 2 in 1 Toastie Maker
Panini Sandwich Press
Health Grill
Non Stick
Temperature Options
"Great little grill for a simple Toastie or a quick meal maker."
Click for all features, offers, deals and todays best price:
The Diablo Toasted Snack Maker
No Electric Plug
Suitable for Gas, Electric, Ceramic and Halogen Cookers
Sweet or Savoury Snacks
"Can be put in the dishwasher after use"
Click for all features, offers, deals and todays best price:
The Tower Sandwich Maker
4 Slice Toastie Maker
Cerastone Non Stick Plates
Upright Storage
"Amazing product, great built. I honestly wasn't waiting for that level of quality for a very low price, very happy!"
Click for all features, offers, deals and todays best price:
When making this report, we saw these as the more influential factors affecting owner opinion.
The toasted sandwich makers in our report will feature some, if not all, of these positive factors.
Look For:
Quick to Heat
Easy Clean
Non-Stick
Watch For:
Sticking Food
Squashing Food
Lack of Power

Market Insight
This is an easy market for the consumer to navigate. It is reasonably sized, and it is easy to tell products apart from each other: both visually and how they are named.
We first calculated the ratings for sandwich makers in 2016, and Breville scored the best then; taking the first and second positions in our top 5.
As usual, Amazon stocked the most machines, with Tesco and Argos selling around 20 models each. John Lewis had 10 on sale.
While it is not a particularly innovative market, we do see improvements in heating controls and new non-stick materials.
We only calculated the ratings of sandwich presses, toastie makers and toasted sandwich machines. There are now many dedicated variants of this type of machine, panini machines for example. We have a separate report for the best ones.