Are you looking to buy a carpet cleaner in the UK?
We've calculated the combined product ratings from Amazon UK, Argos, John Lewis and Tesco. We then list the 5 best rated, for you to consider.
We discovered around 80 models for sale at these trusted shops.
In this ratings report, you will only see established, reliable and tested carpet cleaners. According to owners.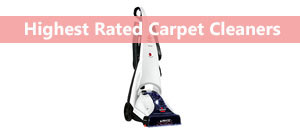 This ratings-driven view of the market often highlights unexpected models for sale. It can also steer you away from a 'bestseller' - if ratings suggest poor performance.
Product ratings in this report start at 4.7 stars
The prices range from £150 to £240
How does it work?
We begin by building a list of carpet cleaners with more than 50 owner ratings. This system jumps straight to the established products. We can see how they've actually performed, according to owners.
Next we remove carpet cleaners with less than a 4 star rating. We now have a list of the higher rated models, with a credible amount of verified opinion.
After ordering the list of the best carpet cleaners, we publish this Top 5 for you.
The Best Carpet Cleaners 2017
| Make & Model | Total Ratings | Average Rating | £ Guide | Quick view |
| --- | --- | --- | --- | --- |
| Bissell Deep Clean | 234 | 4.8 | £££ | Argos |
| Vax Power Pro | 840 | 4.7 | ££ | Tesco |
| Vax Power Pro Advance | 810 | 4.7 | ££ | John Lewis |
| Bissell Power Brush | 219 | 4.7 | £ | Amazon |
| Bissell Advanced Clean | 112 | 4.7 | £ | Argos |
Total Ratings = The combined number of ratings found at Amazon, Argos, John Lewis and Tesco. To see the individual ratings numbers and average scores for each shop click here. Ratings taken on April 10th 2017. We only consider products with rating scores above 4 stars, and more than 50 owner reviews. We use the same criteria for all our reports.
You can swipe this table >>
You can re-sort this Top 5 - it's currently sorting from the highest rated.
Below are links out to UK stores selling these top rated carpet cleaners. There you can learn more about product features, and find today's best prices.
Feature & Review Highlights
The Bissell Deep Clean Carpet Cleaner
3.7 Litre Dirty Water Tank
2014 Model
For Carpets, Rugs and Upholstery
5 Year Guarantee
Model : Bissell 32782
"

It works very well and did a very good job of cleaning a thick pile carpet and also carpet tiles.

"
Click for all features, offers, deals and todays best price:
The Vax Power Pro Carpet Cleaner
2.6 Litre Dirty Water Tank
8 Metre Cord
5 Year Guarantee
Model : VAX W85-PP-T
"

Just amazing. Extremely powerful and better than some I have hired.

"
Click for all features, offers, deals and todays best price:
The Vax Power Pro Advance  Carpet Cleaner
2.9 Litre Dirty Water Tank
6 Year Guarantee
Pre-Treatment Kit
9 Metre Cord
Model : Vax W85-PL-T
"

Really works well. Big difference afterwards, carpets really looking great!

"
Click for all features, offers, deals and todays best price:
The Bissell Power Brush Carpet Cleaner
3 Litre Clean Water Tank
5 Row Dirt Lifting Brush
Great for Households with Pets
For Carpets, Rugs and Upholstery
Model : Bissell 44L6E
"

It cleans spills up really well and the carpet dries quickly after use. Well worth every penny!

"
Click for all features, offers, deals and todays best price:
The Bissell Advanced Clean Carpet Cleaner
2.8 Litre Clean Water Tank
Dirt Lifter Power Brushes
Edge Sweep Brushes
7m Hose
Model : Bissell 44L68
"I am very impressed with this cleaner and would recommend it to anyone who is looking for one that does as good a job, maybe better, as one that you hire. "
Click for all features, offers, deals and todays best price:

Market Insight
We have reported on the best consumer carpet cleaners each year since 2015. Our 2017 report sees a small change from last year.
Once again, it was Bissel and Vax who scored the best – even with other models that didn't make our Top 5.
This is a very high scoring sector with regards to customer ratings. We saw a lot of carpet cleaners with combined scores of 4.6.
Similarities in product names and styling, means this is not the easiest market for the consumer to navigate. It is often a case of having to dig down in the carpet cleaner specifications. This can reveal subtle differences in cleaner capacity or cord length.
In our 2017 best carpet cleaner report, we see one Bissell cleaner replaced by a different model, the 44L68. The rest of the cleaners are the same as 2016. All are worthy of your consideration if you are shopping for a reliable carpet cleaner.