Are you looking to buy a saucepan set in the UK?
We've calculated the combined product ratings from Amazon UK, Argos, John Lewis and Tesco. We then list the 5 best rated, for you to consider.
We discovered around 100 models for sale at these trusted shops.
In this ratings report, you will only see established, reliable and tested saucepan sets. According to owners.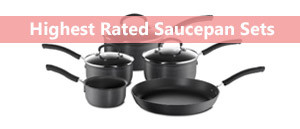 This ratings-driven view of the market often highlights unexpected models for sale. It can also steer you away from a 'bestseller' - if ratings suggest poor performance.
Product ratings in this report start at 4.6 stars
The prices range from £30 to £130
How does it work?
We begin by building a list of saucepan sets with more than 50 owner ratings. This system jumps straight to the established products. We can see how they've actually performed, according to owners.
Next we remove saucepan sets with less than a 4 star rating. We now have a list of the higher rated models, with a credible amount of verified opinion.
After ordering the list of the best saucepan sets, we publish this Top 5 for you.
The Best Saucepan Sets 2017
Total Ratings = The combined number of ratings found at Amazon, Argos, John Lewis and Tesco. To see the individual ratings numbers and average scores for each shop click here. Ratings taken on October 24th 2017. We only consider products with rating scores above 4 stars, and more than 50 owner reviews. We use the same criteria for all our reports.
You can swipe this table >>
You can re-sort this Top 5 - it's currently sorting from the highest rated.
Below are links out to UK stores selling these top rated saucepan sets. There you can learn more about product features, and find today's best prices.
Feature & Review Highlights
Tefal Ingenio Saucepan Set
7-Piece Saucepan Set
All Hob Types – Except Induction
Detachable Handle System
Space Saving System
3-4-5-7-13 Piece Versions
"No more bulky pans taking up cupboard space, and no more pan handles sticking this way and that when cooking. "
Click for all features, offers, deals and todays best price:
ProCook Gourmet Saucepan Set
6-Piece Saucepan Set
All Hob Types Including Induction
Stainless Steel
4mm Thick Base
Left & Right Handed
"The saucepans have vented lids and are marked with litres inside… a total pleasure to use."
Click for all features, offers, deals and todays best price:
Stellar 7000 Saucepan Set
5-Piece Saucepan Set
All Hob Types Including Induction
Three Saucepans,  Frying Pan and Milk Pan
Premium Stainless Steel
"Excellent value for money, couldn't find these cheaper anywhere else. Lovely pans that will last a long time."
Click for all features, offers, deals and todays best price:
VonShef Premium Saucepan Set
5-Piece Saucepan Set
All Hob Types Including Induction

Hard Anodised Cookware Set

Tempered Glass Lids
"As a pro chef, these are great quality."
Click for all features, offers, deals and todays best price:
Argos Home Saucepan Set
5-Piece Saucepan Set
All Hob Types – Except Induction
Aluminium Cookware Set
Tempered Glass Lids
Dishwasher Safe
"They clean amazingly well, good size and incredible value for money!"
Click for all features, offers, deals and todays best price:
When making this report, we saw these as the more influential factors affecting owner opinion.
The saucepan sets in our report will feature some, if not all, of these positive factors.
Look For:
Draining Lids
Fast Heating
Steam Vents
Watch For:
Non Flat Base
Hot Lids
Weak Handles

Market Insight
2017
Owner ratings in the saucepan set market are influenced by two main factors: heating evenly and being easy to clean.
Owners are also most satisfied when saucepans are stylish, and have lids with built-in drainers and steam vents.
Bonus features of the better cookware sets: durability, a good weight and cool to touch handles.
Saucepans sets can be quite an investment. They're expected to perform day after day, for years; with no scratching of coatings, no warping of the base, yet maintaining heat up time. It is common to find manufacturers offering long guarantees in this market.
One of the biggest considerations is whether to opt for stainless steel saucepans or non-stick versions. You might also consider if you'll use them in an oven – or if they are suitable for the type hob you have.
It is a market that slowly innovates. We are not likely to see a Bluetooth saucepan anytime soon – but small improvements in design are apparent, and will continue. Built-in draining holes in the lids are a popular feature and will save you time (and some washing up). Left and right handed pourers are also something to be aware of. Style and ergonomics are important too, especially if used often.
When looked after, a set of pots and pans should perform well for many years. With a few exceptions, it appears to be a market where you genuinely get what you pay for.
As with previous years, we have only considered cookware sets, saucepan sets and pots and pans with at least 5 pieces when calculating ratings. You might discover different set options of these top rated models, eg 3 piece starter versions, when visiting online shops.
2016
Our 2016 update sees a busy product sector, with each of the four websites selling slightly different saucepan sets. Our criteria for this page was saucepan sets with 5 or more pans, plus our usual requirements of over 50 reviews and a minimum score over 4 stars.
We found plenty of well rated pan sets in the 4.4 and 4.5 range, from many different manufacturers. These included Meyer, Argos value range, John Lewis Shine range and Le Crueset.
Amazon stocked the largest variety but doesn't have a clean sweep as it did in our 2015 report. In fact, all of last years saucepan sets have been bumped out of this saucepan set report.
2015
The best cookware sets were the Tefal Delight 7 piece set, the Tefal Essentials 5 piece set, the Circulon Infinite 5 piece saucepan set, the Circulon Premier 5 piece set and the Tefal Bistro 5 piece saucepan set. Please note these may well be out of stock now.