Are you looking to buy a digital thermometer in the UK?
We've calculated the combined product ratings from Amazon UK, Argos, John Lewis and Tesco. We then list the 5 best rated, for you to consider.
We discovered around 80 models for sale at these trusted shops.
In this ratings report, you will only see established, reliable and tested digital thermometers. According to owners.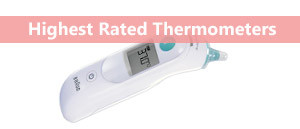 This ratings-driven view of the market often highlights unexpected models for sale. It can also steer you away from a 'bestseller' - if ratings suggest poor performance.
Product ratings in this report start at 4.5 stars
The prices range from £15 to £40
How does it work?
We begin by building a list of digital thermometers with more than 50 owner ratings. This system jumps straight to the established products. We can see how they've actually performed, according to owners.
Next we remove digital thermometers with less than a 4 star rating. We now have a list of the higher rated models, with a credible amount of verified opinion.
After ordering the list of the best digital thermometers, we publish this Top 5 for you.
The Best Digital Thermometers 2017
Total Ratings = The combined number of ratings found at Amazon, Argos, John Lewis and Tesco. To see the individual ratings numbers and average scores for each shop click here. Ratings taken on October 10th 2017. We only consider products with rating scores above 4 stars, and more than 50 owner reviews. We use the same criteria for all our reports.
You can swipe this table >>
You can re-sort this Top 5 - it's currently sorting from the highest rated.
Below are links out to UK stores selling these top rated digital thermometers. There you can learn more about product features, and find today's best prices.
Feature & Review Highlights
iProvèn DMT-489 Digital Thermometer
Forehead Thermometer
Ear Thermometer
FDA Approved
Instant Readout
"This is so easy to use with speedy results, so is very reassuring to have in the medicine cabinet."
Click for all features, offers, deals and todays best price:
Innoo Tech Dual Digital Thermometer
Forehead Thermometer
Ear Thermometer
CE Approved
Fever Warning
"Really good product and simple to use. I like the fact it bleeps if you have a fever – no self diagnosing. Good value for money."
Click for all features, offers, deals and todays best price:
Braun ThermoScan 5 Digital Thermometer
Ear Probe Thermometer
Measures Infrared Heat
No1 Brand Among Doctors
"Love this thermometer – quick and reliable – just what I need as a GP trying to assess patients on a day to day basis."
Click for all features, offers, deals and todays best price:
The Braun Thermoscan 7 Digital Thermometer
Ear Thermometer
Age Precision Technology
Night Light Option
Infrared Thermometer
"Checked this against the calibrated ones being used in hospital and it was spot on. Well worth paying the extra."
Click for all features, offers, deals and todays best price:
The Braun Age Precision Stick Thermometer
Electronic Stick Thermometer
Colour Coded LCD
Fever Alarm
Age Precision Technology
"It's accurate and easy to read – the traffic light system is fantastic. "
Click for all features, offers, deals and todays best price:
When making this report, we saw these as the more influential factors affecting owner opinion.
The digital thermometers in our report will feature some, if not all, of these positive factors.
Look For:
Accuracy
Instant Display
Durable
Watch For:
Inconsistent Results
Expensive
Battery Issues

Market Insight
2017
Owner ratings in the digital thermometer market are heavily influenced by two main factors: accurate temperature readings and fast results.
Owners are also most satisfied when these home medical thermometers have an easy to read display and good battery life.
Bonus features of the better thermometers: comfortable to use, durability, compact size.
Digital thermometers have an important job, they are designed to quickly and accurately take a persons core temperature. We repeatedly saw owners saying they had seen their Braun thermometers in health care settings, such as hospitals and GP surgeries; a great endorsement. We also read how the newer digital thermometers are able to take temperatures by scanning the forehead, with no contact.
The range of medical thermometers for sale at John Lewis and Tesco is smaller than you might expect. Argos sell around twenty models. It's always hard to be exact with numbers at Amazon, due to the many different sellers and imported models: we think around eighty models are stocked across the four shops we use for ratings.
This is one of the few markets that has some questionable reviews on Amazon. While making this update for 2017, we rejected any products where the reviews seemed off in some way. Luckily this is not something we see very often.
It is a market that continues to innovate. It is competitive too, and prices appear reasonable. In 2017, we see the ability to connect a smartphone app to the thermometer results, creating an ongoing record.
2016
A big change from last years report. We see the three Braun digital thermometers pushed out by these lesser known brands.
We see that John Lewis, Argos and Tesco still sell very few digital thermometers. So it's a clean sweep for Amazon.
It was quite an easy sector to navigate, with the Braun thermometers still scoring very well. But not as high as this years Top 5.
We considered medical and health thermometers for this report – infrared, probe, ear, stick and non-contact thermometers. We made sure they had CE or FDA approval.