Are you looking to buy a frying pan in the UK?
We've combined product ratings from Amazon UK, Argos, John Lewis and Tesco and created a Top 5 for you to consider.
We discovered around 200 different models for sale at these trusted shops.
This report will show you established and reliable frying pans, performing as expected. All based on owner rating scores.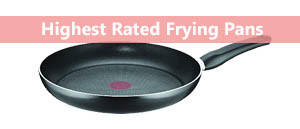 This ratings-driven view of the market often highlights unexpected models for sale. It can also steer you away from a 'bestseller' - if ratings suggest poor performance.
Ratings in the Top 5 begin at 4.7 stars
Prices range from £30 to £50
How does it work?
We begin by building a list of frying pans with more than 50 ratings. This jumps straight to established products. We can see how they've actually performed over time, according to owners.
We remove any frying pans with less than a 4 star rating. We now have a list of the higher rated models, with a credible amount of opinion.
After sorting the product list by ratings, we publish this Top 5.
The Best Frying Pans 2017
Total Ratings = The combined number of ratings found at Amazon UK, Argos, John Lewis and Tesco on October 27th 2017. View rating scores from each shop here. Our report criteria only considers products with more than 50 owner reviews with rating scores above 4 stars.
You can swipe this table >>
You can re-sort this Top 5 - it's currently sorting from the highest rated.
Below are links out to UK stores selling these top rated frying pans. There you can learn more about product features, and find today's best prices.
Feature & Review Highlights
Prestige Stone Skillet
28cm Skillet / Frying Pan
All Hobs – Including Induction
Non Stick
Oven Safe
Dishwasher Safe
"Really good quality frying pans. I have two different sizes and they are great, heavy with a brilliant non stick surface."
Click for all features, offers, deals and todays best price:
Tefal Jamie Oliver Frying Pan
28cm Frying Pan
Hard Enamel Version
Metal Safe, Non Stick Coating
All Hobs – Including Induction
Dishwasher Safe
"Brilliant as always. No complaints, plenty of room and most definitely non stick. Would definitely buy again."
Click for all features, offers, deals and todays best price:
Ozeri Stone Earth Frying Pan
30cm Frying Pan
All Hobs – Including Induction

Stone-Derived Non Stick Coating

Hardened Scratch-Resistant Coating

"The pan is so easy to clean and works like a charm. Ours still looks brand-new. It is also not too heavy. We are very happy with it. "
Click for all features, offers, deals and todays best price:
Tefal Illusion Frying Pan
32cm Frying Pan
Oven Safe up to 170°C
All Hobs – Except Induction
Dishwasher Safe
" Nothing burns or sticks, it cooks to perfection and it's easy to clean – 5 stars."
Click for all features, offers, deals and todays best price:
Lodge Cast Iron Frying Pan
30cm Frying Pan
Cast Iron
Pre Seasoned
All Hobs – Including Induction
Lifetime Guarantee
"It cooks very evenly and genuinely cooks just about everything better than our regular pan with the benefit of being able to go straight into the oven."
Click for all features, offers, deals and todays best price: