Are you looking to buy a frying pan in the UK?
We've calculated the combined product ratings from Amazon UK, Argos, John Lewis and Tesco. We then list the 5 best rated, for you to consider.
We discovered around 200 models for sale at these trusted shops.
In this ratings report, you will only see established, reliable and tested frying pans. According to owners.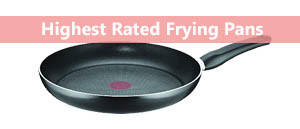 This ratings-driven view of the market often highlights unexpected models for sale. It can also steer you away from a 'bestseller' - if ratings suggest poor performance.
Product ratings in this report start at 4.7 stars
The prices range from £30 to £50
How does it work?
We begin by building a list of frying pans with more than 50 owner ratings. This system jumps straight to the established products. We can see how they've actually performed, according to owners.
Next we remove frying pans with less than a 4 star rating. We now have a list of the higher rated models, with a credible amount of verified opinion.
After ordering the list of the best frying pans, we publish this Top 5 for you.
The Best Frying Pans 2017
Total Ratings = The combined number of ratings found at Amazon, Argos, John Lewis and Tesco. To see the individual ratings numbers and average scores for each shop click here. Ratings taken on October 27th 2017. We only consider products with rating scores above 4 stars, and more than 50 owner reviews. We use the same criteria for all our reports.
You can swipe this table >>
You can re-sort this Top 5 - it's currently sorting from the highest rated.
Below are links out to UK stores selling these top rated frying pans. There you can learn more about product features, and find today's best prices.
Feature & Review Highlights
Prestige Stone Skillet
28cm Skillet / Frying Pan
All Hobs – Including Induction
Non Stick
Oven Safe
Dishwasher Safe
"Really good quality frying pans. I have two different sizes and they are great, heavy with a brilliant non stick surface."
Click for all features, offers, deals and todays best price:
Tefal Jamie Oliver Frying Pan
28cm Frying Pan
Hard Enamel Version
Metal Safe, Non Stick Coating
All Hobs – Including Induction
Dishwasher Safe
"Brilliant as always. No complaints, plenty of room and most definitely non stick. Would definitely buy again."
Click for all features, offers, deals and todays best price:
Ozeri Stone Earth Frying Pan
30cm Frying Pan
All Hobs – Including Induction

Stone-Derived Non Stick Coating

Hardened Scratch-Resistant Coating

"The pan is so easy to clean and works like a charm. Ours still looks brand-new. It is also not too heavy. We are very happy with it. "
Click for all features, offers, deals and todays best price:
Tefal Illusion Frying Pan
32cm Frying Pan
Oven Safe up to 170°C
All Hobs – Except Induction
Dishwasher Safe
" Nothing burns or sticks, it cooks to perfection and it's easy to clean – 5 stars."
Click for all features, offers, deals and todays best price:
Lodge Cast Iron Frying Pan
30cm Frying Pan
Cast Iron
Pre Seasoned
All Hobs – Including Induction
Lifetime Guarantee
"It cooks very evenly and genuinely cooks just about everything better than our regular pan with the benefit of being able to go straight into the oven."
Click for all features, offers, deals and todays best price:
When making this report, we saw these as the more influential factors affecting owner opinion.
The frying pans in our report will feature some, if not all, of these positive factors.
Look For:
Robust Coating
Good Weight
Cool Handle
Watch For:
Food Sticking
Loose Handles
Patchy Heating

Market Insight
2017
Owner ratings in the frying pan market are mainly influenced by two main factors: non stick longevity and strong construction.
Owners are also most satisfied when frying pans have a good weight, heat up quickly and are easy to clean.
Bonus features of the better frying pans: cool handles, dishwasher safe and oven safe.
Lower rated frying pans are more likely to have handles which loosen over time; and have flaking, non stick coatings. Once the coating degrades, it is usually time for the bin – and back to the shops.
As with previous years, we have only looked for single frying pans, sized from 26cm to 32cm. We did not include sauté pans, but did include skillets. You are likely to find smaller/larger versions of the models featured in this report.
In 2016 we saw some high scoring Tefal frying pans in our Top 5 – the Adventure and initiative models. It appears these have been discontinued already, they were not in stock in 2017. We have looked at this market since 2015. Click here for an overview of previous year's ratings.
Frying pans and skillets are designed to quickly heat up and withstand high temperatures without warping or flaking. Food shouldn't stick, and they should be easy to clean after use. A good non stick surface means you don't need to use as much cooking oil as usual – a good pan can be healthier in this respect.
The range of frying pans for sale at the shops we use for ratings is pretty decent. We found at least 200 models across Amazon, Argos, John Lewis and Tesco.
It is a market that doesn't need to innovate too much; the basic design is not going to change. We do see changes in the material being used. This is often in an attempt to keep the non stick properties from scratching or flaking off, and also heating up quickly.
2016
This is our updated report from our 2015 look at the market.
We only looked at single frying pans, between 26cm and 32cm. We did not include any stir-fry or sauté variants. Only 'regular' frying pans and skillets.
This is a busy product sector. We found 94 frying pans at Argos; 50 at John Lewis; 150 at Tesco; 200+ at Amazon UK.
It is quite an easy product sector for the consumer to navigate. Each store offered the same model versions. In some other sectors, we see subtle name changes which can make comparison slow.
Generally speaking, this is a quality sector with lots of good frying pans, and plenty of reviews to consider.