Are you looking to buy a fryer in the UK?
We've combined product ratings from Amazon UK, Argos, John Lewis and Tesco and created a Top 5 for you to consider.
We discovered around 180 different models for sale at these trusted shops.
This report will show you established and reliable fryers, performing as expected. All based on owner rating scores.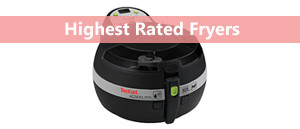 This ratings-driven view of the market often highlights unexpected models for sale. It can also steer you away from a 'bestseller' - if ratings suggest poor performance.
Ratings in the Top 5 begin at 4.5 stars
Prices range from £20 to £150
How does it work?
We begin by building a list of fryers with more than 50 ratings. This jumps straight to established products. We can see how they've actually performed over time, according to owners.
We remove any fryers with less than a 4 star rating. We now have a list of the higher rated models, with a credible amount of opinion.
After sorting the product list by ratings, we publish this Top 5.
The Best Fryers 2016
Total Ratings = The combined number of ratings found at Amazon UK, Argos, John Lewis and Tesco on July 18th 2016. View rating scores from each shop here. Our report criteria only considers products with more than 50 owner reviews with rating scores above 4 stars.
You can swipe this table >>
You can re-sort this Top 5 - it's currently sorting from the highest rated.
Below are links out to UK stores selling these top rated fryers. There you can learn more about product features, and find today's best prices.
Feature & Review Highlights
The Tefal Actifry 1Kg Health Fryer
Paddle Automatically Rotates Food
Automatic Lid Remembers to Restart Timer
Digital Timer
"

Could not live without it now. A wonderful piece of equipment.

"
Click for all features, offers, deals and todays best price:
 The VonShef Compact 1.5L Fryer
1.5 L Capacity Deep Fat Fryer

Thermostatic Temperature Control

Viewing Window

Low Priced Fryer
"

Very pleased with my new deep fat fryer. Ideal for 2 persons.

"
Click for all features, offers, deals and todays best price:
The Philips HD9220/20 Fryer
Fully-Adjustable Temperature Control
Use up to 80% Less Fat Than a Conventional Fryer
Integrated Timer to Pre-Set Cooking Times
Recipe Book
"Fantastic. I use it to cook chicken, beef, heat up pizza etc."
Click for all features, offers, deals and todays best price:
The Tefal ActiFry 1Kg Health Fryer
Uses Little or No Oil
Easy to Clean with Automatic Stirring
Versatile. Cook Curries, Stir-Fry, Casseroles and More
"

Very happy with this product. I would recommend this to anyone who does not like washing up it takes very little cleaning as it uses so little oil.

"
Click for all features, offers, deals and todays best price:
The Breville Halo Plus Fryer
Tilt Function and Non-Stick Rotating Bowl
75 Minute Digital Timer
Half Teaspoon Oil per 1Kg of Chips
"

Nice and quiet, does oven cook chips a treat and is easy to clean.

"
Click for all features, offers, deals and todays best price: